Gravitational Wave Science Interest Group
The goal of the Gravitational Wave Science Analysis Group (GWSIG) is to provide quantitative metrics and assessments to NASA in preparation for a future gravitational wave mission. Specifically, the GWSIG will:
Track and analyze evolving science goals and requirements, especially as our understanding of three standard sources of gravitational waves (supermassive black hole binaries, extreme mass ratio inspirals, galactic binaries) continues to improve.
Support mission studies and concept development for future space-based gravitational wave observatories, including when cost savings are sought, or new classes of sources are under consideration (such as the stochastic gravitational wave background from the inflationary epoch).
Aid efforts to analyze technology development and prioritization plans as science goals are defined and mission concepts evolve within the PhysPAG portfolio.
Advocate for the brand new field of gravitational wave astronomy, build a vibrant community of gravitational wave astronomers, and promote the discovery space in this new field to the wider scientific community and to the public.
The GWSIG is open to all members of the community.
If you are interested in contributing to the work of the GWSIG, please subscribe using the link below. For other inquiries, e-mail co-chairs John Conklin at jwconklin@ufl.edu, Kelly Holley-Bockelmann at k.holley@vanderbilt.edu, and Nicolas Yunes at nicolas.yunes@montana.edu.
GWSIG Mailing List
Subscribe to the GWSIG mailing list.
White Papers for Decadal Survey
A list of proposed Gravitational-Wave Science white papers can be found here: https://pcos.gsfc.nasa.gov/sigs/gwsig/whitepapers.php
To add to this list, please fill in the Google Form here: https://goo.gl/forms/KiTBmL1jndMRampf1
Telecon Schedule
The GW community holds a regular weekly telecon on Tuesdays at 11:00 A.M. Eastern. Other telecons are scheduled as needed. For telecon connection information, please contact PCOS Chief Scientist Terri Brandt (T.J.Brandt AT nasa.gov).
Meetings
---
Previous Meetings

At 231st Meeting of the American Astronomical Society, 8–12 January 2018, Washington, D.C. [All activities at Gaylord Hotel/Conference Center Full Agenda]


GWSIG Meeting at APS April Meeting, April 14–17, 2018, Columbus, OH
GWSIG Meeting at January 2017 AAS meeting, Grapevine, TX
GWSIG Meeting at APS April meeting, April 16-19, 2016, Salt Lake City, UT
GWSIG Meeting at 227th AAS meeting, Room: Sanibel, January 4-8, 2016, Kissimmee, FL [Agenda]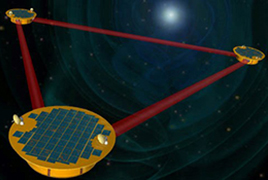 ---
PCOS News
Program News and Announcements
25 March 2019
NASA HQ Astrophysics Division has created a task force to assess NASA's role in strategic optimization of Gravitational Wave Electromagnetic Counterpart (GW-EM) astrophysics. See the
Terms of Reference
for more details.
1 February 2019
Dr Terri Brandt confirmed as PCOS Chief Scientist.
17 December 2018
NASA HQ has publicly
posted
an updated
Astrophysics Implementation Plan
(AIP), detailing progress made by NASA's Astrophysics Division in implementing the 2010 Decadal recommendations since the previous update in 2016. Please see »
full details
Project News
Related News
---
Links