Gamma Ray Science Interest Group
The goal of the Gamma Ray Science Interest Group (GRSIG) is to provide quantitative metrics and assessments to NASA in regard to current and future needs of hard X-ray and gamma-ray astrophysics community. Specifically, the activities of the GRSIG include:
Act as a focal point and forum for the hard X-ray and gamma ray communities.
Organize bi-weekly telecons to discuss recent science results, and current and future missions.
Maintain a list of technology needs for future hard X-ray and gamma-ray missions.
Produce suggestions to help support the specific needs of this unique community: organizational, scientific, funding.
The GRSIG is open to all members of the community. If you are interested in contributing to the work of the GRSIG, please subscribe using the link below. You can contact the GRSIG members Henric Krawczynski at krawcz@wustl.edu, Sylvain Guiriec at sylvain.guiriec@nasa.gov, and John Tomsick at jtomsick@ssl.berkeley.edu.
GRSIG Telecons
Thursday, 14 Dec 2018, 2:00 P.M.–3:00 P.M. Eastern

The role of the NASA Physics of the Cosmos Program Analysis Group (PhysPAG) and the Gamma-ray Science Interest Group (GammaSIG).


Steering Committee members needed for the new Multi-Messenger Astrophysics Science Analysis Group (MMA-SAG)


Two 15-min talks on HAWC/Fermi science:

Dr. Petra Huentemeyer (Michigan Technological University) will talk about HAWC results and the importance of lower energy gamma-rays to support HAWC science.


Dr. Giacomo Vianello (Stanford University) will present the current joint analysis efforts and the synergies between HAWC and Fermi [PDF].

Open discussion.

Meeting link:
https://gwu.webex.com/gwu/j.php?MTID=macabb05f1645c2b9d70c780cc2575326
Meeting number: 731 557 212—Meeting password: physpag
Video Address: 731557212@gwu.webex.com
Audio: +1-415-655-0003 (US TOLL)—
+1-855-282-6330 (US TOLL FREE)—
Access code: 731 557 212



Thursday, 16 Nov 2017, 1:00 P.M.–2:00 P.M. Eastern
Two talks on Gravitational Wave/Gamma Ray Burst observations and discussion (20 minutes each and remainder discussion):

Black and Gold: The Astrophysics of the Compact Binary Merger GW170817/GRB170817A. Dr. Leo Singer (NASA Goddard Space Flight Center) [PDF]
The Fermi Gamma-ray Burst Monitor Aspects of GW/GRB Detections, and the vision for the future to support this research field. Dr. Colleen Wilson-Hodge (NASA Marshall Space Flight Center and PI of the Fermi Gamma-ray Burst Monitor) [PDF]


GRSIG Meetings
GRSIG Mailing List
Subscribe to the GRSIG mailing list.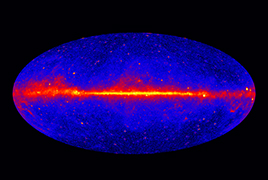 ---
PCOS News
Program News and Announcements
8 Dec 2017
NASA welcomes applications for Program Scientists Jan 2-31 via USAJOBS. » Details [
PDF
]
1 Dec 2017
The 2017 PCOS Newsletter [
PDF
], focusing on PCOS's high energy particle and γ-ray astrophysics science themes, is now available! In addition to news from current and future missions and studies, it contains more than 20 articles on the current and future landscape of topics spanning from cosmic rays, neutrinos, and dark matter to γ-rays, gravitational waves, and multimessenger astronomy.
17 Oct 2017
NASA has selected
NASA LISA
Study Team
members to help prepare the LISA Decadal survey science case; identified
Study Office
members, including a core team who will work closely with the study team members; and nominated representatives to ESA's LISA Science Study Team.
Project News
Related News
---
Links