Gamma Ray Science Interest Group
The goal of the Gamma Ray Science Interest Group (GRSIG) is to provide quantitative metrics and assessments to NASA in regard to current and future needs of hard X-ray and gamma-ray astrophysics community. Specifically, the activities of the GRSIG include:
The GRSIG is open to all members of the community. If you are interested in contributing to the work of the GRSIG, please subscribe using the link below. You can contact the GRSIG members Sylvain Guiriec at sylvain.guiriec@nasa.gov, Henric Krawczynski at krawcz@wustl.edu, and John Tomsick at jtomsick@ssl.berkeley.edu.
GRSIG Mailing List
Subscribe to the GRSIG mailing list.
Decadal Science White Paper Meetings
GRSIG Telecons
Sign up to give a presentation(s) or suggest a topic/speaker(s) that you would like to hear for future telecons?
GRSIG Meetings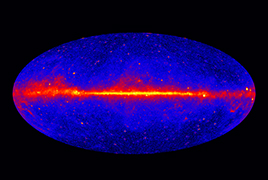 ---
PCOS News
Program News and Announcements
26 Feb 2018
LISA Preparatory Science
is a new program element in ROSES 2018 to provide support for U.S. investigators involved in analysis and interpretation of simulated LISA data. Mandatory NOIs are due 19 Mar 2018 and full proposals are due 14 Jun 2018.
Project News
Related News
---
Links