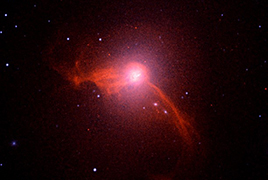 ---
PCOS News
Program News and Announcements
16 May 2019
June 1 2019 is the deadline for filling and submitting the technology gap submission form. We encourage members of the community to identify such gaps between today's state-of-the-art and what will be needed for missions identified by the 2010 Decadal Survey, the 2018 Astrophysics Implementation Plan, and/or the 30-year Astrophysics Road Map. Please see the
Astrophysics Division Technologists letter
for more details, including how to submit a gap.
25 March 2019
NASA HQ Astrophysics Division has created a task force to assess NASA's role in strategic optimization of Gravitational Wave Electromagnetic Counterpart (GW-EM) astrophysics. See the
Terms of Reference
for more details.
1 February 2019
Dr Terri Brandt confirmed as PCOS Chief Scientist.
17 December 2018
NASA HQ has publicly
posted
an updated
Astrophysics Implementation Plan
(AIP), detailing progress made by NASA's Astrophysics Division in implementing the 2010 Decadal recommendations since the previous update in 2016. Please see »
full details
Project News
Related News
---
Links