Physics of the Cosmos News
2 May 2023
ROSES-23: Research Initiation Awards and SMD Bridge Program Seed Funding
The new Research Initiation Awards (RIA) Program (F.22) solicits proposals from non-R1 institutions to provide support for investigators and their students at institutions underrepresented in the NASA's science mission directorate (SMD) ecosystem. RIA has two principal programmatic objectives:
1) Enable investigators at institutions underrepresented in the SMD ecosystem to initiate activities that, over the course of a two-year period, will provide the foundation for a competitive, sustainable, and productive program of research.
2) Enable undergraduate students affiliated with the proposing investigator to perform cutting-edge research in SMD-relevant fields.
Optional Notices of Intent for RIA may be submitted until 18 May 2023, and proposals are due 18 July 2023. This opportunity has special eligibility restrictions, see Section 2. This program will evaluate proposals using dual-anonymous peer review, see Section 4.
The new SMD Bridge Program Seed Funding (BPSF) Element (F.23) of ROSES-2023 solicits proposals to provide support for faculty investigators and their students at under-resourced institutions (URIs) to carry out NASA-relevant research. Through the BPSF program, SMD aims to facilitate new and expand ongoing partnerships between students and faculty at URIs and researchers at NASA Centers that could be expected to grow into Bridge partnerships and become well-positioned to submit a proposal to the future SMD Bridge Program opportunity in ROSES-2023.
SMD plans to organize networking events to help facilitate new partnerships. More information about Bridge networking events will be made available at the SMD Bridge Program webpage once they are scheduled.
Notices of Intent are not requested for BPSF, and proposals may be submitted at any time but those submitted by 30 June 2023 will be reviewed in Summer 2023, with anticipated award date in October 2023.
A joint informational webinar about these two opportunities will take place on 24 May 2023 1-2:30 p.m. Eastern Time via Zoom. The webinar will: (1) provide an overview of both programs (2) describe the proposal process and requirements, and (3) allow for webinar attendees to submit questions. Those who register at https://go.nasa.gov/404qx1j will receive a Zoom calendar invitation that will get updated with Connect information.
Questions regarding F.22 RIA, the webinar, or to request reasonable accommodations for the webinar, may be directed to Maggie Yancey at hq-smd-ria@mail.nasa.gov. Questions concerning F.23 BPSF may be directed to Patricia (Padi) Boyd at padi.boyd@nasa.gov. This information will also be posted under "Other Documents" on NSPIRES pages for both elements.
NASA's Chandra, Webb Combine for Arresting Views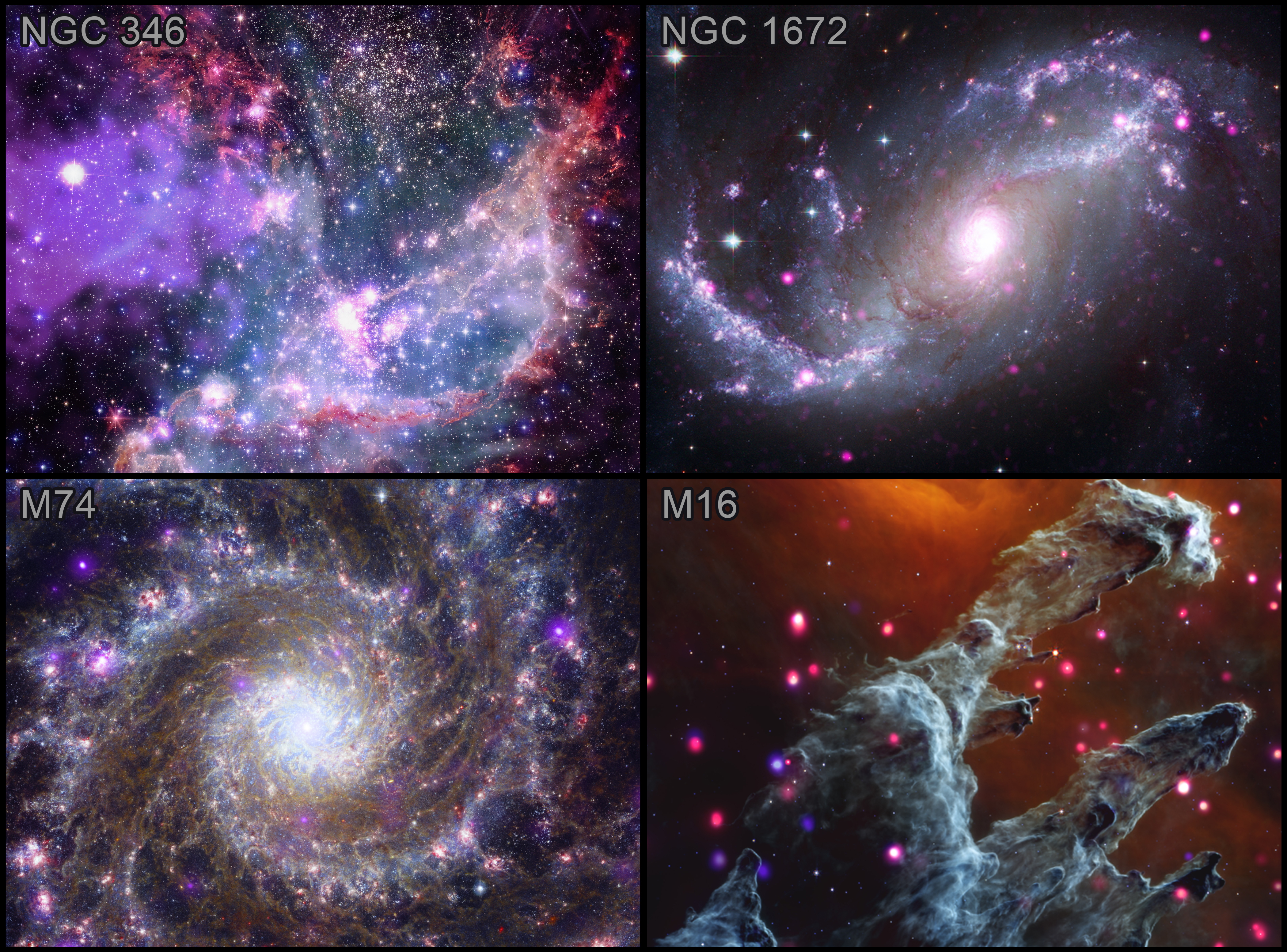 Four composite images deliver dazzling views from NASA's Chandra X-ray Observatory and James Webb Space Telescope of two galaxies, a nebula, and a star cluster. These cosmic wonders and details are made available by mapping the data to colors that humans can perceive. Read more.
---
PhysCOS News
See our new Events Calendar
Program News and Announcements
Project News
Related News
---
Links