Physics of the Cosmos News
22 November 2019
NASA Headquarters is seeking PhD scientists to serve as Program Scientists!
NASA seeks one or more visiting Ph.D.-level scientists to serve as Program Scientists in the Astrophysics Division at NASA Headquarters in Washington, DC. With a budget (including JWST) of over $1 billion annually, the Division is responsible for the nation's space-based astrophysics program.
NASA Program Scientists have broad responsibility for developing and maintaining scientific research grants programs; serving as the Headquarters science lead for one or more missions; and implementing NASA's response to the ongoing 2020 Decadal Survey. They have substantial influence over high-level strategic planning, as well as over shaping the long-term scientific direction of missions and programs that they oversee. These visiting appointments, which last two years with renewals up to six years, offer a tremendous opportunity to gain insight into Federal astrophysics policy and programs, to better understand the proposal review process, and to run scientific programs with multimillion-dollar budgets.
The time spent at NASA Headquarters allows visiting scientists excellent career growth: some return to their home institutions to continue academic research, while others move on to management and leadership positions in the Federal government, academia, at observatories, or in the non-profit sector. Training and mentoring programs are available, on both a formal and informal basis, which further enables our visiting scientists to advance their careers. NASA also offers its visiting scientists regular travel back to their home institutions.
Most Program Scientists in the Astrophysics Division have at least 6 years of post-PhD experience. The ideal candidate will be skilled at working in a collaborative team environment; will be able to adapt to work simultaneously on numerous programs and missions; and will be able to foster productive relationships with staff working on the space missions they oversee, and with the US astrophysics community at large. Disciplinary expertise in one or more areas of the astrophysics program (e.g., theory, data analysis, technology and instrument development, mission development) is essential, but the ability to place this knowledge in the broad context of US astrophysics is equally important for the success of the Division's programs.
Visiting appointments are most often filled via the Intergovernmental Personnel Act (IPA) which requires current employment with an eligible US institution for at least 90 days. Individual research time while serving as a visiting scientist is negotiable. Positions are available from June 2020, though the start date is flexible. Applicants should email a curriculum vitae and cover letter as a single PDF file by March 13, 2020 to hq-astrophysics-ipasearch@mail.nasa.gov. For more information about the position, please contact Dr. Valerie Connaughton at valerie.connaughton@nasa.gov.
AAS Job Register: https://jobregister.aas.org/ad/330213f5
NASA's Chandra, Webb Combine for Arresting Views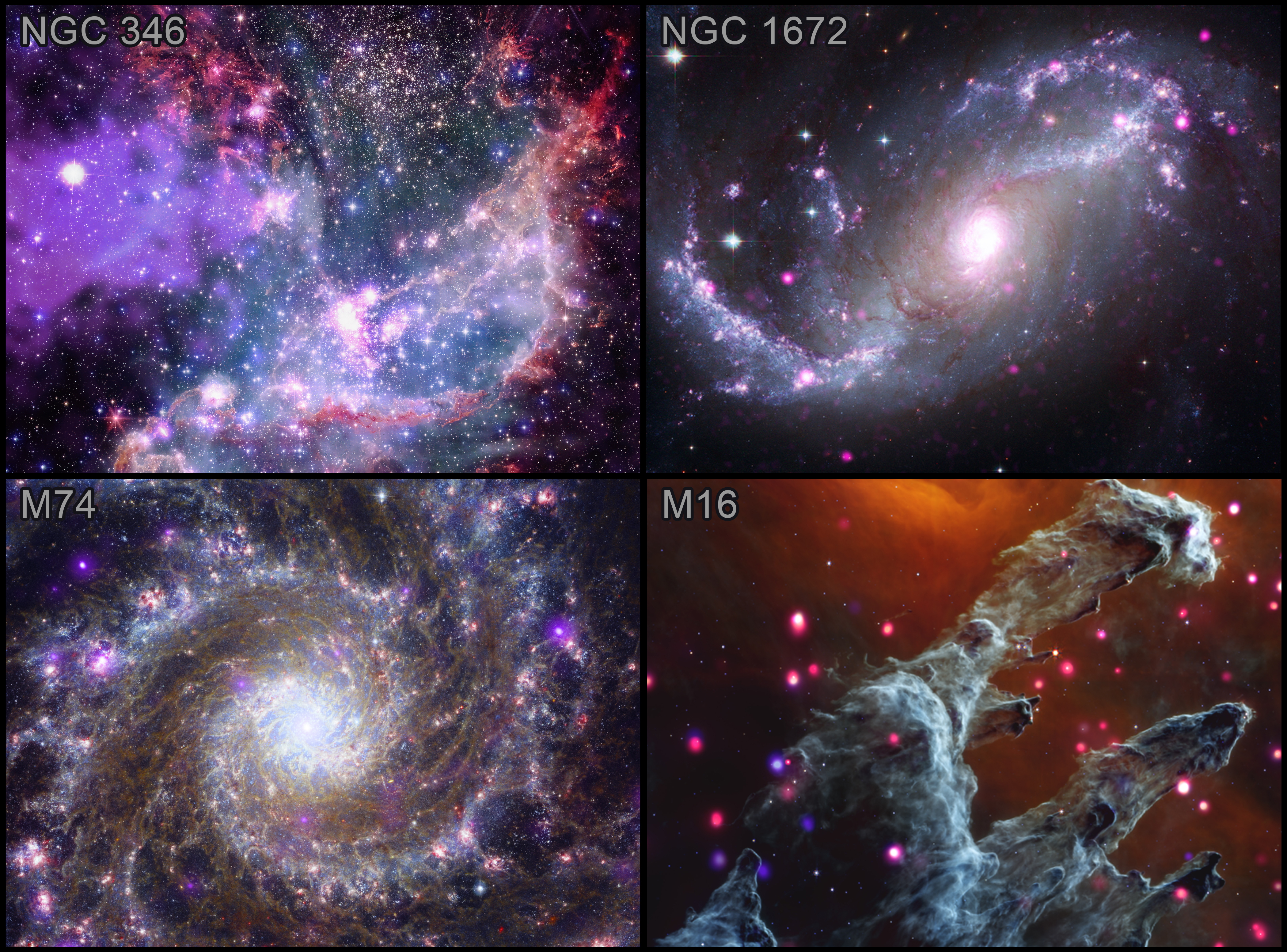 Four composite images deliver dazzling views from NASA's Chandra X-ray Observatory and James Webb Space Telescope of two galaxies, a nebula, and a star cluster. These cosmic wonders and details are made available by mapping the data to colors that humans can perceive. Read more.
---
PhysCOS News
See our new Events Calendar
Program News and Announcements
Project News
Related News
---
Links