Physics of the Cosmos News
23 March 2023
High Energy X-ray Probe Splinter Session at HEAD 2023
We invite the high-energy community to a Splinter Session dedicated to the High Energy X-ray Probe (HEX-P) mission concept, taking place during the HEAD 20 Meeting in Kona, HI. The talk session is in the Queen's Ballroom on Sunday 26 March 2023 at 10:30a Hawaii Time (1:30p Pacific | 4:30p Eastern).
There will be a series of talks describing the overall mission design and some of the most relevant science goals. In addition, a set of posters will be presented expanding on these topics. Talks include
HEX-P: Mission Overview – Kristin Madsen
Accretion Power I: Black Hole Spins, Truncated Disks, Neutron Stars and ULXs – Javier Garcia
Accretion Power II: Ejection Physics, the X-ray Corona, and Spectral-Timing – Dan Wilkins
Black Hole Growth I: A complete census of AGN across cosmic time – Francesca Civano
Black Hole Growth II: A complete census of AGN in our cosmic backyard – Peter Boorman
Resolved Populations: the Broadband X-ray View of Normal Galaxies – Kristen Garofali
Galactic Science – Ben Coughenour
Time-Domain and Multi-Messenger Astronomy – Murray Brightman
This session is open to the public and can be accessed remotely via Zoom.
NASA's Chandra, Webb Combine for Arresting Views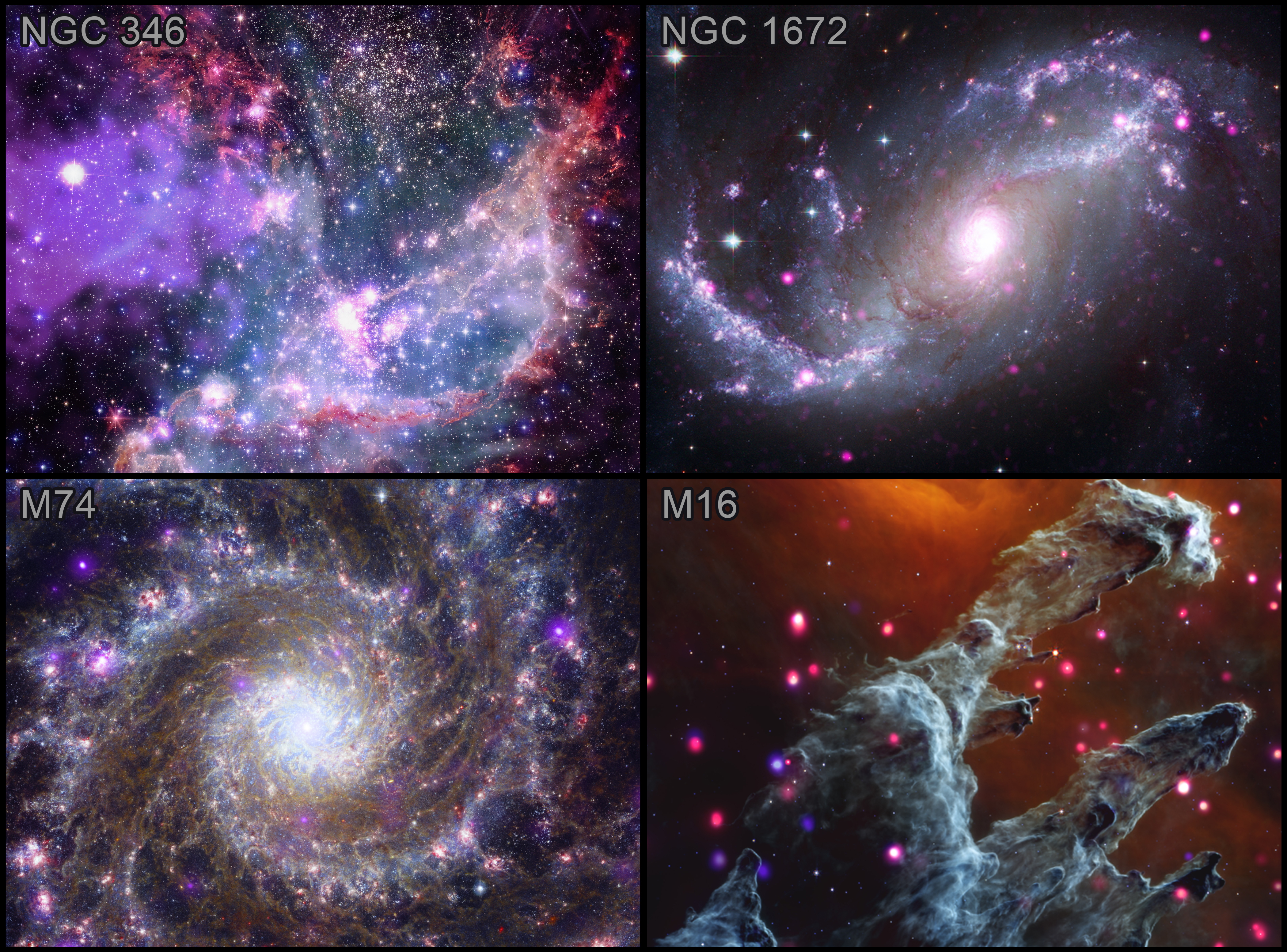 Four composite images deliver dazzling views from NASA's Chandra X-ray Observatory and James Webb Space Telescope of two galaxies, a nebula, and a star cluster. These cosmic wonders and details are made available by mapping the data to colors that humans can perceive. Read more.
---
PhysCOS News
See our new Events Calendar
Program News and Announcements
Project News
Related News
---
Links