Physics of the Cosmos News
16 May 2023
15th Edoardo Amaldi Conference on Gravitational Waves 17-21 July 2023
Amaldi15 is the premier forum for the fields of gravitational wave science and gravitational wave detection. Following the first detection of gravitational waves in 2015, followed by the first observations of the collision of two neutron stars in 2017, the field has been expanding rapidly to exploit this new window on the Universe.
Held biannually, the Amaldi meetings are more important than ever before for bringing together the diverse and emergent research associated with gravitational waves from across the world. They are organized under the auspices of the Gravitational Wave International Committee (GWIC).
The conference addresses the full range of gravitational wave science, including future detectors. Emphasis will be placed on the connection between gravitational wave science and the fields of observational astrophysics and multi-messenger astronomy, and progress in modeling waveforms arising from various astrophysical sources. The conference is intended for professional researchers and students in the cutting-edge field of gravitational wave research. The subject matter will be geared towards senior undergraduates and above.
The conference will be held virtually from 17-21 July 2023. There will be three daily sessions, spaced out to ensure equal coverage of participants' timezones. The conference will utilize Zoom ∓ Oxford Abstracts to facilitate registration, programming, and poster sessions.
All attendees are required to register via Oxford Abstracts no later than 14 July 2023. Thanks to the generosity of sponsors, there is no cost to attend Amaldi15. For those interested, we are accepting requests for Talks and Poster presentations; you can submit your abstract via Oxford Abstracts (before registering or submitting, you will be redirected to create an account on Oxford Abstracts account). If you require a certificate of attendance, please contact us via email at amaldi15@nanograv.org.
NASA's Chandra, Webb Combine for Arresting Views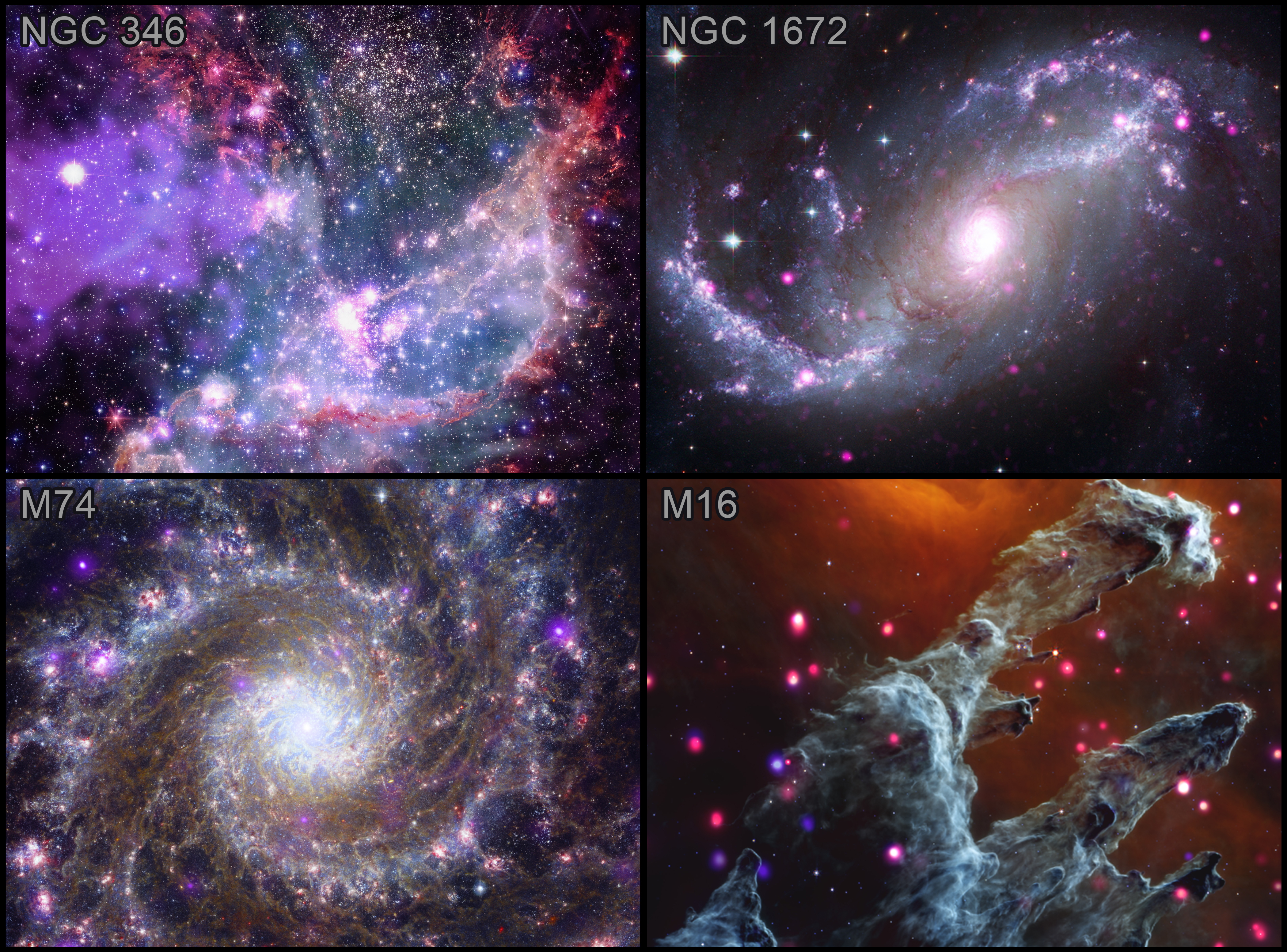 Four composite images deliver dazzling views from NASA's Chandra X-ray Observatory and James Webb Space Telescope of two galaxies, a nebula, and a star cluster. These cosmic wonders and details are made available by mapping the data to colors that humans can perceive. Read more.
---
PhysCOS News
See our new Events Calendar
Program News and Announcements
Project News
Related News
---
Links